BOOMbox at Home: Fun with Food
January 6, 2021 by Skokie Staff in BOOMbox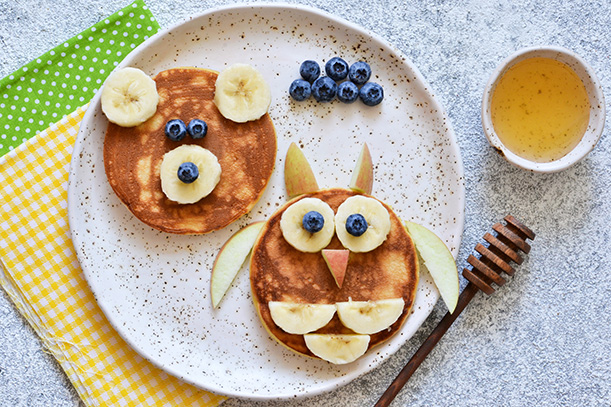 How does food keep us alive, and why do we need to eat a wide variety of foods to stay healthy and grow? Below are three activities you can try at home to learn about how food gives us energy.

Need help getting enough food to eat? Skokie Public Library and other local organizations are working to help get food to families that need it.
Nutrients
Food is made of lots of different kinds of nutrients, like carbohydrates, fat, protein, water, fiber, and vitamins and minerals.
It's hard to see these nutrients with our own eyes, but you can break down some kinds of food to find out what nutrients they have. To see the starch, a type of carbohydrate, in potatoes, you will need some potatoes and a grater. Learn what starch looks like and how to make potato starch. Starch is a key ingredient in oobleck, a fun and nontoxic alternative to slime. Have fun playing and experimenting with the non-Newtonian starch mixture.
To see the gluten--a type of protein--in wheat, you will need wheat flour and a lot of water. Learn how to make wheat gluten and discover what protein feels like when you try to pull it apart. What does it remind you of? Do you have any body parts that look similar to the ball of wheat protein?
Watch how the human body converts food into energy and play the Chow Time game to see how much food dinosaurs needed to eat.
Healthy Diets
A healthy diet is one that gives you all the nutrients that you need to grow into the best version of yourself. This looks different for everyone, because different people need different amounts of food, come from different cultures, and have different food tolerances.
Explore your own version of a balanced diet by using lots of different ingredients to make a face on a plate. Or make animal face toasts out of bread, fruit and a nut spread. You can also use various vegetables to make crunchy critters, or you can use whatever you have in your fridge and your imagination to make a food sculpture of your own. Before you chow down on your tasty creations, count out loud how many types of foods are on your plate. Think about how many colors you've included in your meal. Can you guess what kinds of nutrients you will be eating?
To learn more about what makes different kinds of food good for you, we recommend watching You Are What You Eat by SciShow Kids. You can also try out the Cooking School game and use interesting ingredients to make food perfect for aliens and robots.
Growing Food
We know that food helps us grow, and everything we eat has also been grown.
Want to see your food grow with your own eyes in your own kitchen? Regrow scallion ends in a glass and watch as the green parts of the scallion grow longer and longer each day. You can also regrow lettuce and celery. As the days go by, think about what kind of food the vegetables need to grow. Does it need the same kind of food you need?
For hints on what makes food grow, we recommend playing a fun game where you farm food in space.
Person of the Week
Michelle Obama is the creator of the Let's Move campaign, a project to help people become healthier by eating more nutritious food and exercising more. Born and raised in Chicago, Obama used her skills as a lawyer and her position as First Lady of the United States from 2009 to 2017 to support several important laws that make it easier to eat healthy food.
These laws included the Healthy, Hunger Free Kids Act of 2010, which gave students access to a bigger variety of whole grains, fruits, and vegetables for school lunches and provided free breakfast for students who needed it. It also included improvements to the nutrition facts label on the back of packaged foods, which makes it easier to find out what kind of nutrients and added ingredients are inside a container of food.
Share
We'd love to see the results of your food experiments! Tag @skokielibrary when you share photos of what you've created on social media.